Partners
WRI is a global research organization that spans more than 50 countries. It works closely with leaders to turn big ideas into action to sustain our natural resources: the foundation of economic opportunity and human well-being. WRI's work focuses on six critical issues at the intersection of environment and development: climate, energy, food, forests, water, and cities and transport.
New Ventures was incubated within WRI as a center for green entrepreneurship and in 2011 transitioned to the local partners in Brazil, China, Colombia, India, Indonesia and Mexico.
---

WWF is the world's leading conservation organization. WWF's unique way of working combines global reach with a foundation in science, involves action at every level from local to global, and ensures the delivery of innovative solutions that meet the needs of both people and nature.
WWF has launched Climatesolver.org, a climate innovations portal to strengthen the development and widespread use of technologies that can dramatically reduce carbon-dioxide emissions or increase access to energy around the globe. We partner with WWF to identify climate innovations or forward-thinking entrepreneurs with a desire to help us combat climate change.
---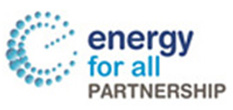 The Energy for All Partnership was formed by the Asian Development Bank in 2008, to build platforms for cooperation, exchange, innovation, and project development for solutions to widespread energy poverty. The partnership has brought together key stakeholders from business, finance, government, and NGOs for a singular purpose: to drive action towards a goal of providing energy access to 100 million people in Asia and the Pacific Region by 2015.
---

The Energy Access Practitioner Network is a global platform that brings together energy service providers and stakeholders from 170 countries to support the delivery of clean, reliable, and affordable decentralized energy as a contribution to the United Nations' Sustainable Energy For All Initiative (Se4all) goal of universal energy access by 2030.
---
CTI PFAN is a multilateral public private partnership, initiated by the Climate Technology Initiative and the United Nations Framework Convention on Climate Change, which connects clean energy businesses and projects with private sector financing. Regain Paradise is a member of the PFAN network.